Alrighty, folks. I'm gonna try to get back into blogging. Answering questions is the easiest way to jump back in. Oh, and I have to add, GO RANGERS!!!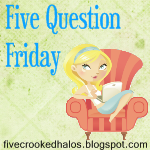 1. What is your go to comfort food or sweet?
Chocolate! Also Italian food, especially in the winter months. I try not to buy chocolate because I will eat it if it's in the house. I shouldn't do that because, inevitably, I HAVE TO HAVE chocolate. Then I just want to cry when I can't find any around.
2. What is the most romantic place you've ever been to?
Well, I haven't been on a remote island or anything like that, but Michael does a good job taking me to nice places and making me feel special.
3. What is your favorite thing about fall/Halloween?
Hmmm...the crisp air (85 is crisp after the summer we had!), the pumpkin spiced drinks at Starbucks, the pumpkin candles, Audrey excited about dressing up, Rangers baseball...I could go on for a long time. This isn't true for every fall season, but for the last two, I have to say BASEBALL!
4. How would you spend 24 hours alone?
I would make the girls' costumes, organize my coupons, plan my grocery trips, and shop ALONE! I'm such a nerd.
5.
Does you husband bring you flowers? Are you the bring-me-flowers type of girl?
I am not the type of girl who desires flowers, but my husband surprises me frequently with them! I always cry because I know that he went out of his way to, again, make me feel special. I tell you what, he's quite a guy!