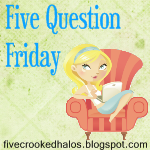 I'm trying to ease my way back into blogging. I was reading through this week's 5 Question Friday blogs and decided to participate too. I guess I'm getting excited about Baby #3 coming! These questions are all about babies. I will say that I think differently than I did 5 years ago and I scrutinize medical methods, medicine, and even doctors a lot more now. My birth stories may have been different if I was then who I am now.
1. I
f you had c-section do you wish you would have had vaginal? Or vice versa?
I have had two c-sections. I wasn't against c-sections, but I ended up needing one with Audrey. I kinda wish I had tried a VBAC with Julia, but I was relieved to have a c-section scheduled, especially since we had a family member pass right before Julia was born. I was able to make the funeral and have my baby the next day. I also avoided April Fools Day with the scheduling. I would try to do a VBAC this time around, but I'm getting my tubes tied and I need to be off my special LDN meds for awhile before I deliver so that the pain meds will work. Scheduling a c-section just seems the way to go.
2. I
f vaginal did you go drug free?
Well, Audrey was my only vaginal option and I definitely went the medicated route with her. Never had any really bad pain while I was laboring with her. Today, if I could do vaginal, I would try to do it naturally.
3. D
id you have any complications?
Yes. She was sunny-side up. She also got stuck on my pelvic bone. Every time I pushed, I slammed her little head into my bone. She came out with quite the bruise on her head. Eventually, she started to have issues when I had contractions, so we went in for the c-section.
4.
Who was in the delivery room with you?
I got to labor with Audrey with my mom, mother-in-law, and husband in the room. Unfortunately, only Michael was with me in the operating room when she was delivered. And of course, it was just Michael when Julia was born too.
5. Did you document your labor and delivery? (Photos, videos, etc.)
Yes. We have both video and pictures that Michael somehow did a great job doing all by himself. Audrey loves watching the video of her being born. No worries, it's not graphic.
6. Pick the birth story of one of your children and tell us ALLLLLLLL about it!
Since Julia's birth was just perfect and a scheduled c-section, I'll pick Audrey's story.
Audrey was due the week of Christmas. It pained me to know that she would grow up with a birthday so close to Christmas. I wanted that birthday as far away from Christmas as possible. When my OB suggested an induction, I jumped on it! Yes, I was induced to avoid a holiday. I didn't think it was weird, I mean, my DOCTOR had suggested it out of the blue. So, sure! That sounds like a fantastic idea! So I went in on the 13th of December to start my induction and planned to have her on the 14th. So, they give me the meds and told me to have a good night's rest. I stay awake the whole night watching my contractions and our heartbeats. My contractions were going really well and in the morning they check me. I had not budged. My doctor said I could get some pitocin, but that might cause me to have a c-section. Michael and I discussed it and decided that we shouldn't be putting Audrey at any risk just to get her here faster. We packed our bags and left the hospital without our baby in our arms, but still in my tummy. I had some good sleep medication and slept the 14th away. On the 15th, we went to a movie (I have no idea which one) and ate out. I was having really strong contractions by this point and began timing them. Michael went to bed while I timed my contractions all night long. At 6AM, I decided Michael had gotten enough sleep (he was sick during this time), and woke him up to take me back to the hospital. I got checked at the hospital and was told that I wasn't very far along, but that my contractions were still super strong and five minutes or less apart so they took me. (I was later told that my cervix was made of cement.) We called our parents and told them to come on up. When I was at a 3 (which I really wasn't, they kinda pushed me there), they asked if I wanted my epidural. Well, sure! If I could already have it, why not?! I loved my anesthesiologist and got her with Julia too! (Oh, btw, I did not have MY doctor, but another OB. It was a Sunday and my OB's day off.) So, with it being a Sunday, the Cowboys were playing. I think they were playing the Packers, but I could be wrong. I watched the game while I labored. My on-call doctor loves the Cowboys. So much so, that the nurses kept calling her to come for my C-section, but she didn't come until halftime. I didn't mind it then, being a huge sports fan and all, but I mind it now. Come on! I could have been in real trouble and this is your JOB! She finally shows, we're wheeled into the operating room, and they begin to operate. The docs were discussing the football game, Michael and I were chatting some, and Jingle Bells was being played on the sound system. Then Audrey appeared and my whole world changed. She was healthy and she liked crying. We just didn't know how much she liked crying! She was 7#6oz, had a head full of dark hair, and dark blue/brown eyes. She had Michael's darker skin. She was perfect! The bruise on her forehead went away after a few days and her hair turned white-blonde, and her eyes turned brown. Today, she is the happiest, sweetest little girl with gorgeous, naturally highlighted, thick brown hair and has the most tender heart. Love her to pieces!