Boy, I haven't been in the mood to blog AT ALL! Forcing myself to do this so that maybe next week it'll be easier to jump back in.
***Prayer request update***
Mark's surgery went very well. They were able to get all of the tumor and placed a wafer (Is that correct? That's the word in my head but it looks so wrong!) in his brain to disperse chemo to hopefully get any cancer cells left behind. He has done very well after surgery. They are awaiting the pathology results and know that the prognosis will most likely be very bad. Keep praying! ***Just saw that he's going home today! They also got the prognosis. Glioblastoma Multiforme Stage 4.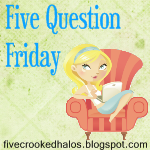 Now onto 5 Question Friday. Happy Mothers Day to all you moms out there! It's been a hard mom week for me, so I can honestly say it is the hardest job out there! More kudos to you if you do the mom thing alone!
1.
H
ave you ever had roommates?
Oh yes! In fact, I sometimes feel like my only readers are my former roomies! I love them! I've had 6 roomies. Lori, Shannon, Mere, Crystal, Sarah, and Kami. I lived with Lori for four years and I think we might still jump at an opportunity to live in a duplex together if it presented itself! I live a few blocks away from Sarah but don't see her nearly as often as I'd like. These girls have lived all over Texas, except Crystal. She resides in Oregon and that makes me sad. :( Oh the stories these girls could tell!
2. How many names do you/your children have? (i.e. Prince Charming William Phillip Arthur Louis John Jacob
Jingleheimer
-Schmidt)
Each one of us have three names. I'm the odd one as I go by my middle name. If we have another child and it's a boy, he could receive four names if my husband has his way.
3. Did you watch the Royal Wedding?
I got out my archaic VCR and somehow got it to work with our new tv and recorded it. I thought it was nice and I'm glad I saw it for historical reasons. I don't envy Kate at all. She does have it great in many ways, but it is not a life I want. I'm living that life!
4. W
hat is the messiest room in your house?
Depends. It's wherever my focus is not. Currently, it my bedroom. I did attack parts of it today, I just kept having to take care of two little girls. Saw this on facebook yesterday: "A perfectly kept house is evidence of a life misspent." Everyone say, "Amen."
5. W
hat is your ideal mothers day?
Honestly, a day of relaxation, chocolate, and quiet. But I'll spend it with family, noise, busyness, and maybe a little chocolate. It'll still be good!